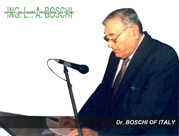 We are a leading manufacturer and exporter of air separation plants, oxygen plants, nitrogen plants and acetylene plants. With the technical association of ING. L. & A. Boschi of Italy, our company fabricates plants that perform in compliance with the plants of international standard. Our company has started manufacturing of nitrogen & oxygen production plant at our factory in New Delhi (India) in 1985 and air separation columns in Genova, Italy.

Being an ISO and CE certified company, we manufacture and export a number of plants with different sizes that are certified to meet international specifications, and exported globally under the same world renowned 'Boschi' Italy brand name. Our engineers are specialized in the designing & drawing of oxygen & nitrogen production plants & were trained under Dr. Boschi of Italy. We started manufacturing of nitrogen & oxygen production plants at our factory in New Delhi (India) in 1985 with air separation columns and critical components from the factory of ING. L. & A. BOSCHI Genova, Italy.

We have a team of senior engineers who are trained for designing, drawing and quality control. Our complete technology along with designs, drawings and manufacturing skills has been acquired from ING. L. & A. BOSCHI of ITALY, which is perfect for over the last 28 years. We are manufacturing and exporting the products with the brand name "Boschi" as our quality fulfills international specifications and standards. Our company has a team to perform quality check so that the quality of our products has been passed by most of the agencies including SGS (society General De Surveillance) for export.


What is CE mark?

Despite of ISO 9001:2000 certification, our products are also CE approved. The CE mark represents a mark for quality. First, it refers to the safety & quality of a product. Second, the CE marking is mandatory for the products and services supplied to European Market. CE indicates conformity with mandatory European safety requirements. European conformity is certified by following clear and understandable procedures, the so-called 'conformity assessment procedures'.

Within these 28 years of experience, we have become able to earn acclamation of a number of esteemed clients located over 40 countries, including Saudi Arabia, Indonesia, UAE, Dubai, Jordan, Maldives, Saipan, Seychelles, Kazakhstan, Malaysia, Taiwan, Nigeria, Ghana, Congo, South Africa, Benin, Europe, Libya, Columbia, Brazil and many others. And in last 5 years, our company has exported 150 complete oxygen nitrogen plants all over world.


OXYGEN PLANT INSPECTION AND TESTING AT OUR FACTORY
Our quality controlling teams are involved in oxygen plant inspection and testing at our factory in New Delhi (India). Each component gets here carefully scrutinized in order to perform exceptionally.
CLIENT SIGNING CONTRACT
Clients from across the world visit our offices and sign contract. The contract agreed and signed by both the parties covers all the terms and conditions regarding payment, shipment installation, etc.
SOME WORLDWIDE CUSTOMERS
Coca Cola Worldwide
Pepsi Cola
CV Citra Alam, Indonesia
AlBaha Gas, Saudi Arabia
DOM GP ,USA
Giad Steel Sudan
GAS44 ,Mexico
REPSOL OIL, Bolivia
DIOX , Brazil.
GÜNEY DOĞAL GAZ SAN.VE TİC. AŞ. , Turkey

LUMIAR ,Brazil
Mr Alexander ,Russia
Samir Ghadir & co., Syria
Oxxi De Colombia ,Colombia
Mr David Watson , Australia
Seafront Shipyard ,Philippines
Yemen Air force
Nigerian Air force
Ministry of Iraq
Kingstex ,Nigeria
Our esteemed customers

Our company has manufactured & installed over 500 complete Oxygen/Nitrogen/Acetylene plants and equipments worldwide. It has shipped all the plants and equipments in over 60 countries, including Australia, the UK, New Zealand, Nigeria, Zimbabwe, Congo, South Africa, Ghana, Zambia, West Africa, Sharjah, Abu Dhabi, Mauritius, Zambia, Dubai, Egypt, Saudi Arabia, Peru, Indonesia, Kuwait, Kazakhstan, Jordan, Libya, Liberia Venezuela, Brazil, Elsalvador, Spain, Italy, Seychelles, Kazakhstan, and many others.